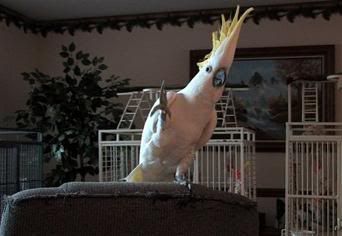 Most of you know of or have seen Snowball, the Dancing Cockatoo.
Today, March 4th, 2008 at 2:30pm Eastern time, you can hear Snowball's best friend and care taker, Irena Schulz of Bird Lovers Only Rescue on
Animal Talk Naturally's
Weekly LIVE internet radio show. Simply go to:
http://www.blogtalkradio.com/animaltalknaturally
when the show is live.
The call-in number for this show is 646.595.4693 when we open the lines for questions.
Irena rescued the now very well known Cockatoo, I fell in love with this amazing bird for more than just his amazing dancing abilities but because he is doing much to bring awareness on three important issues:
1)The cognitive abilities of animals
2)The nature of birds
3)Bird rescue.
If you missed the live show, you can listen to the recording right here!